Susanne Kamps Wins Art Prize
---
Award Ceremony in London 1st October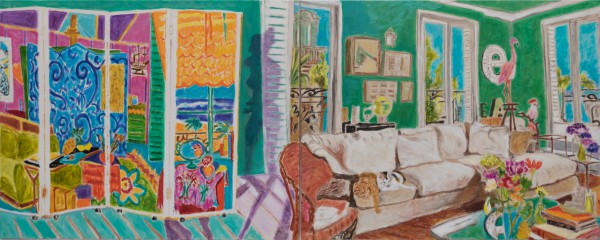 Susanne Kamps was awarded joint third Young Masters Prize at an award ceremony in London on 1st October. The Young Masters Prize is a not-for-profit initiative of London's Cynthia Corbett Gallery. For its 10th anniversary this year the prize had more than 700 competing artists. Susanne's winning submission was a diptych oil painting titled Behind the Screen. Visit https://www.young-masters.co.uk/
Young Masters Art Prize, London 2019
---
Susanne Kamps Shortlisted for 2019
Susanne Kamps is among the twenty artists shortlisted for the Tenth Anniversary of the Young Masters Art Prize, a non-profit initiative of the London-based Cynthia Corbett Gallery. The paintings submitted by Susanne will be exhibited at La Galleria in the Royal Opera Arcade in London from 30 September until 5 October. Winner to be announced in October 2019. Visit https://www.thecynthiacorbettgallery.com/
25 degrés en hiver
---
Cité internationale des Arts, Paris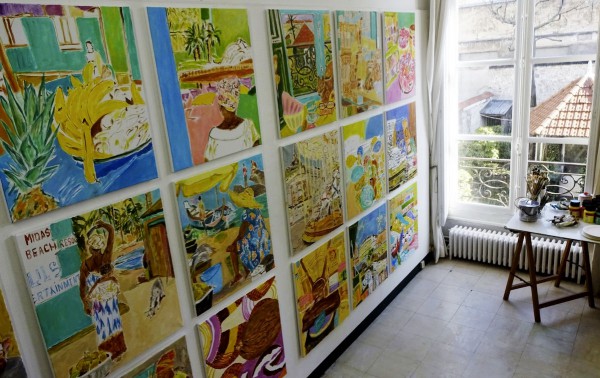 –
Cité internationale des Arts
18 Rue de l'Hôtel de Ville
Paris, France
Susanne mobile +33 7 5814 7126
For this open studio exhibition at the Cite des Arts in Paris, Susanne showed two ongoing series of paintings somewhere between figurative and abstract styles.
One series shows motifs from the African continent: oil paintings created following the artist´s visit to Ghana in December 2018. The other series - Lèche-vitrines - inspired by the impressions and emotions that the artist felt from her time in Paris.
Susanne was in residence at the Cité des Arts from January to March 2019 via the Association of Artists of Düsseldorf.
SMALL FORMAT
---
Malkasten Art Association
, Düsseldorf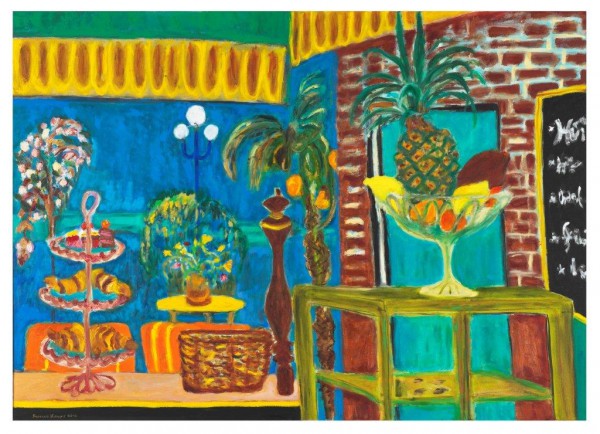 –
Künstlerverein Malkasten
Jacobistraße 6a
40211 Düsseldorf
Zur Eröffnung der Jahresausstellung der Mitglieder
des Künstlerverein Malkasten am Dienstag, den 04. Dezember 2018 um 19 Uhr
sind Sie und Ihre Freunde herzlich in das Jacobihaus eingeladen.
Die Finissage findet am Dienstag, 29. Januar 2019 statt.
Farbe bekennen
---
Rathaus Düsseldorf
, Düsseldorf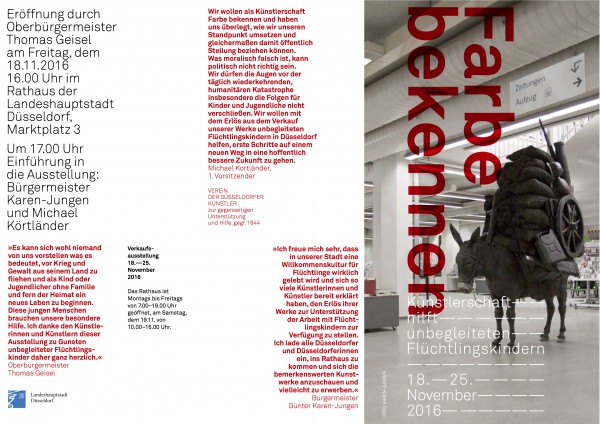 –
Das Schicksal der Flüchtlinge, insbesondere der Flüchtlingskinder, hat die Mitglieder des Vereins Düsseldorfer Künstler berührt und sie wollen nun "Farbe bekennen". Mit dem Erlös aus dem Verkauf ihrer Werke wollen sie verschiedene Flüchtlingsprojekte unterstützen und vor allem den Kindern und Jugendlichen unter den Flüchtlingen helfen, erste Schritte auf ihrem Weg in eine hoffentlich bessere Zukunft zu gehen. Oberbürgermeister Thomas Geisel hat den Künstlerinnen und Künstlern das Foyer des Rathauses, Marktplatz 2, zur Verfügung gestellt, damit die Werke einer größeren Öffentlichkeit gezeigt werden können. Die Gemälde, Zeichnungen, Drucke und Skulpturen werden vom 18. bis 25. November montags bis freitags von 8 bis 19 Uhr ausgestellt. Zur Eröffnung am Freitag, 18. November, um 16 Uhr sind alle Interessierten herzlich eingeladen. Auch am Samstag, 19. November, kann die Verkaufsausstellung von 10 bis 16 Uhr besichtigt werden.
Israel Retrospektive
---
Galerie am Eck
, Düsseldorf

–
Kunstpunkte - Offene Ateliers
---
Atelieraustellung
, Düsseldorf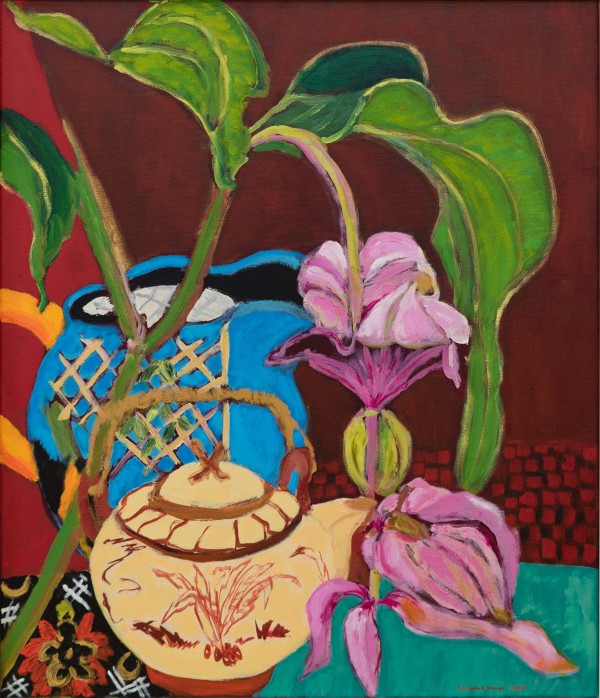 Benefit Exhibition for Refugee Children
---
Rathaus Düsseldorf
, Düsseldorf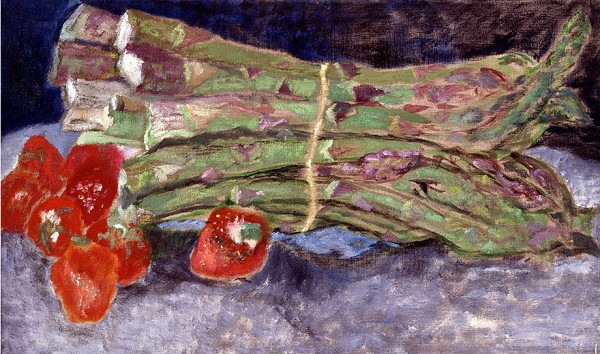 Kunstverein Malkasten
---
Jacobihaus
, Düsseldorf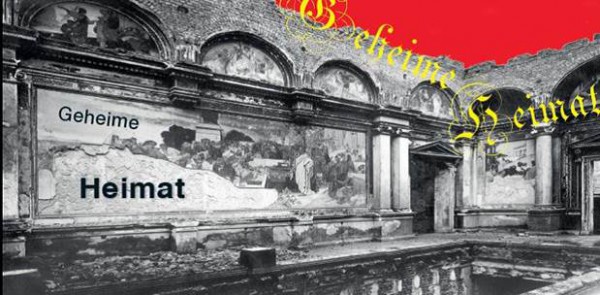 –
bed & breakfast
---
Kunstverein Worms e.v.
, Worms
–
Renzstr. 7-9,
67547 Worms
2001 absolvierte die Düsseldorfer Malerin Susanne Kamps ihr Studium an der Kunstakademie Münster bei Prof. Hermann-Josef Kuhna als Meisterschülerin. Seit dem zieht es sie immer wieder in den Süden Frankreichs, wo die meisten ihrer Bilder als eine Art Reisetagebuch entstehen. Wie schon die 'wilden' Maler der Fauves vor gut 100 Jahre lässt sie sich hier von dem intensiven Licht des Südens anregen. Wilde und besonders kräftige Farben gewinnen hier ein sinnliches Eigenleben, das kaum noch an den tatsächlichen Dingen haften will. Die akademische Perspektive verflacht, und die Farben selbst verschaffen sich ihren Raum und ihre Freiheit. Seit einiger Zeit findet Susanne Kamps ihre Sonne und ihre Farben auch in anderen Mittelmeerländern – in Kroatien und in Israel.
Katalogtext bei Dr. Dietmar Schuth